Image and Description Tooltip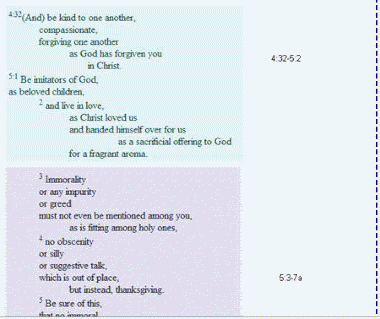 One of the more useful tooltip scripts that can be used in a presentation-tutorial website like Your Daily Inspiration and the Bible Workshop is the "Image with Description Tooltip" by Sharon Paine. There are two parts in the script: the first is placed at the <head> section of the web page, and another is in the <body> where the links to the images are.
Here is the script for the <head>
   1:

 

<

script

 

type

="text/javascript"

>




   1:

  




   2:

  




   3:

 

/***********************************************




   4:

 

* Image w/ description tooltip- By Dynamic Web Coding (www.dyn-web.com)




   5:

 

* Copyright 2002-2007 by Sharon Paine




   6:

 

* Visit Dynamic Drive at http://www.dynamicdrive.com/ for full source code




   7:

 

***********************************************/




   8:

  




   9:

 

/* IMPORTANT: Put script after tooltip div or 




  10:

 

     put tooltip div just before </BODY>. */




  11:

  




  12:

 

var

 dom = (document.getElementById) ? 

true

 : 

false

;




  13:

 

var

 ns5 = (!document.all && dom || window.opera) ? 

true

: 

false

;




  14:

 

var

 ie5 = ((navigator.userAgent.indexOf(

"MSIE"

)>-1) && dom) ? 

true

 : 

false

;




  15:

 

var

 ie4 = (document.all && !dom) ? 

true

 : 

false

;




  16:

 

var

 nodyn = (!ns5 && !ie4 && !ie5 && !dom) ? 

true

 : 

false

;




  17:

  




  18:

 

var

 origWidth, origHeight;




  19:

  




  20:

 

// avoid error of passing event object in older browsers




  21:

 

if

 (nodyn) { 

event

 = 

"nope"

 }




  22:

  




  23:

 

///////////////////////  CUSTOMIZE HERE   ////////////////////




  24:

 

// settings for tooltip 




  25:

 

// Do you want tip to move when mouse moves over link?




  26:

 

var

 tipFollowMouse= 

true

;    




  27:

 

// Be sure to set tipWidth wide enough for widest image




  28:

 

var

 tipWidth= 160;




  29:

 

var

 offX= 20;    

// how far from mouse to show tip




  30:

 

var

 offY= 12; 




  31:

 

var

 tipFontFamily= 

"Verdana, arial, helvetica, sans-serif"

;




  32:

 

var

 tipFontSize= 

"8pt"

;




  33:

 

// set default text color and background color for tooltip here




  34:

 

// individual tooltips can have their own (set in messages arrays)




  35:

 

// but don't have to




  36:

 

var

 tipFontColor= 

"#000000"

;




  37:

 

var

 tipBgColor= 

"#DDECFF"

; 




  38:

 

var

 tipBorderColor= 

"#000080"

;




  39:

 

var

 tipBorderWidth= 3;




  40:

 

var

 tipBorderStyle= 

"ridge"

;




  41:

 

var

 tipPadding= 4;




  42:

  




  43:

 

// tooltip content goes here (image, description, optional bgColor, optional textcolor)




  44:

 

var

 messages = 

new

 Array();




  45:

 

// multi-dimensional arrays containing: 




  46:

 

// image and text for tooltip




  47:

 

// optional: bgColor and color to be sent to tooltip




  48:

 messages[0] = 

new

 Array(

'http://img.photobucket.com/albums/v86/angfrayle/piceph4_32-5_9-sec1.png'

,

'Section 1′

,

"#FFFFFF"

);




  49:

 messages[1] = 

new

 Array(

'http://img.photobucket.com/albums/v86/angfrayle/piceph4_32-5_9-sec2.png'

,

'section 2′

,

"#DDECFF"

);




  50:

 messages[2] = 

new

 Array(

'http://img.photobucket.com/albums/v86/angfrayle/piceph4_32-5_9-sec3.png'

,

'Section 3′

,

'black'

,

'white'

);




  51:

  




  52:

 

////////////////////  END OF CUSTOMIZATION AREA  ///////////////////




  53:

  




  54:

 

// preload images that are to appear in tooltip




  55:

 

// from arrays above




  56:

 

if

 (document.images) {




  57:

     

var

 theImgs = 

new

 Array();




  58:

     

for

 (

var

 i=0; i<messages.length; i++) {




  59:

       theImgs[i] = 

new

 Image();




  60:

         theImgs[i].src = messages[i][0];




  61:

   }




  62:

 }




  63:

  




  64:

 

// to layout image and text, 2-row table, image centered in top cell




  65:

 

// these go in var tip in doTooltip function




  66:

 

// startStr goes before image, midStr goes between image and text




  67:

 

var

 startStr = 

'<table width="'

 + tipWidth + 

'"><tr><td align="center" width="100%"><img src="'

;




  68:

 

var

 midStr = 

'" border="0"></td></tr><tr><td valign="top">'

;




  69:

 

var

 endStr = 

'</td></tr></table>'

;




  70:

  




  71:

 

////////////////////////////////////////////////////////////




  72:

 

//  initTip    - initialization for tooltip.




  73:

 

//        Global variables for tooltip. 




  74:

 

//        Set styles




  75:

 

//        Set up mousemove capture if tipFollowMouse set true.




  76:

 

////////////////////////////////////////////////////////////




  77:

 

var

 tooltip, tipcss;




  78:

 

function

 initTip() {




  79:

     

if

 (nodyn) 

return

;




  80:

     tooltip = (ie4)? document.all[

'tipDiv'

]: (ie5||ns5)? document.getElementById(

'tipDiv'

): 

null

;




  81:

     tipcss = tooltip.style;




  82:

     

if

 (ie4||ie5||ns5) {    

// ns4 would lose all this on rewrites




  83:

         tipcss.width = tipWidth+

"px"

;




  84:

         tipcss.fontFamily = tipFontFamily;




  85:

         tipcss.fontSize = tipFontSize;




  86:

         tipcss.color = tipFontColor;




  87:

         tipcss.backgroundColor = tipBgColor;




  88:

         tipcss.borderColor = tipBorderColor;




  89:

         tipcss.borderWidth = tipBorderWidth+

"px"

;




  90:

         tipcss.padding = tipPadding+

"px"

;




  91:

         tipcss.borderStyle = tipBorderStyle;




  92:

     }




  93:

     

if

 (tooltip&&tipFollowMouse) {




  94:

         document.onmousemove = trackMouse;




  95:

     }




  96:

 }




  97:

  




  98:

 window.onload = initTip;




  99:

  




 100:

 

/////////////////////////////////////////////////




 101:

 

//  doTooltip function




 102:

 

//            Assembles content for tooltip and writes 




 103:

 

//            it to tipDiv




 104:

 

/////////////////////////////////////////////////




 105:

 

var

 t1,t2;    

// for setTimeouts




 106:

 

var

 tipOn = 

false

;    

// check if over tooltip link




 107:

 

function

 doTooltip(evt,num) {




 108:

     

if

 (!tooltip) 

return

;




 109:

     

if

 (t1) clearTimeout(t1);    

if

 (t2) clearTimeout(t2);




 110:

     tipOn = 

true

;




 111:

     

// set colors if included in messages array




 112:

     

if

 (messages[num][2])    

var

 curBgColor = messages[num][2];




 113:

     

else

 curBgColor = tipBgColor;




 114:

     

if

 (messages[num][3])    

var

 curFontColor = messages[num][3];




 115:

     

else

 curFontColor = tipFontColor;




 116:

     

if

 (ie4||ie5||ns5) {




 117:

         

var

 tip = startStr + messages[num][0] + midStr + 

'<span style="font-family:'

 + tipFontFamily + 

'; font-size:'

 + tipFontSize + 

'; color:'

 + curFontColor + 

';">'

 + messages[num][1] + 

'</span>'

 + endStr;




 118:

         tipcss.backgroundColor = curBgColor;




 119:

          tooltip.innerHTML = tip;




 120:

     }




 121:

     

if

 (!tipFollowMouse) positionTip(evt);




 122:

     

else

 t1=setTimeout(

"tipcss.visibility='visible'"

,100);




 123:

 }




 124:

  




 125:

 

var

 mouseX, mouseY;




 126:

 

function

 trackMouse(evt) {




 127:

     standardbody=(document.compatMode==

"CSS1Compat"

)? document.documentElement : document.body 

//create reference to common "body" across doctypes




 128:

     mouseX = (ns5)? evt.pageX: window.

event

.clientX + standardbody.scrollLeft;




 129:

     mouseY = (ns5)? evt.pageY: window.

event

.clientY + standardbody.scrollTop;




 130:

     

if

 (tipOn) positionTip(evt);




 131:

 }




 132:

  




 133:

 

/////////////////////////////////////////////////////////////




 134:

 

//  positionTip function




 135:

 

//        If tipFollowMouse set false, so trackMouse function




 136:

 

//        not being used, get position of mouseover event.




 137:

 

//        Calculations use mouseover event position, 




 138:

 

//        offset amounts and tooltip width to position




 139:

 

//        tooltip within window.




 140:

 

/////////////////////////////////////////////////////////////




 141:

 

function

 positionTip(evt) {




 142:

     

if

 (!tipFollowMouse) {




 143:

         standardbody=(document.compatMode==

"CSS1Compat"

)? document.documentElement : document.body




 144:

         mouseX = (ns5)? evt.pageX: window.

event

.clientX + standardbody.scrollLeft;




 145:

         mouseY = (ns5)? evt.pageY: window.

event

.clientY + standardbody.scrollTop;




 146:

     }




 147:

     

// tooltip width and height




 148:

     

var

 tpWd = (ie4||ie5)? tooltip.clientWidth: tooltip.offsetWidth;




 149:

     

var

 tpHt = (ie4||ie5)? tooltip.clientHeight: tooltip.offsetHeight;




 150:

     

// document area in view (subtract scrollbar width for ns)




 151:

     

var

 winWd = (ns5)? window.innerWidth-20+window.pageXOffset: standardbody.clientWidth+standardbody.scrollLeft;




 152:

     

var

 winHt = (ns5)? window.innerHeight-20+window.pageYOffset: standardbody.clientHeight+standardbody.scrollTop;




 153:

     

// check mouse position against tip and window dimensions




 154:

     

// and position the tooltip 




 155:

     

if

 ((mouseX+offX+tpWd)>winWd) 




 156:

         tipcss.left = mouseX-(tpWd+offX)+

"px"

;




 157:

     

else

 tipcss.left = mouseX+offX+

"px"

;




 158:

     

if

 ((mouseY+offY+tpHt)>winHt) 




 159:

         tipcss.top = winHt-(tpHt+offY)+

"px"

;




 160:

     

else

 tipcss.top = mouseY+offY+

"px"

;




 161:

     

if

 (!tipFollowMouse) t1=setTimeout(

"tipcss.visibility='visible'"

,100);




 162:

 }




 163:

  




 164:

 

function

 hideTip() {




 165:

     

if

 (!tooltip) 

return

;




 166:

     t2=setTimeout(

"tipcss.visibility='hidden'"

,100);




 167:

     tipOn = 

false

;




 168:

 }




 169:

  




 170:

 document.write(

'<div id="tipDiv" style="position:absolute; visibility:hidden; z-index:100"></div>'

)




 171:

  




</script>
The customizable part of this script is marked with a comment. The more important part to customize is where one finds the following codes:
   1:

 messages[0] = new Array('url-to-image','Section 1′,"#FFFFFF");
   2:

 messages[1] = new Array('url-to-image','section 2′,"#DDECFF");
   3:

 messages[2] = new Array('url-to-image','Section 3′,'black','white');
The second part of the script — the one in the body of the webpage — is the normal IMG tag with the the AHREF. This latter should have the following special codes for the mouseover and mouseout events that are important for running the script:
onmouseover="doTooltip(event,0)" onmouseout="hideTip()"
In the case of the page one finds here, an image map has been used. What happens is here is that by running the mouse over the sectioned graphics, a larger view of the reduced sectional graphic is displayed.